welcome

Dalibor is an active, non-canon Dragonriders of Pern site. No knowledge of the series or site is required to join; players of all experience levels are welcome here. Founded in 2008, Dalibor has been running for four years.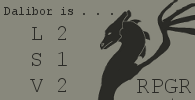 news

Spring, 7th Turn, 11th Pass

Upcoming Flights/Runs:
Green Qianath
Green Yusk
Copper Peixes
Gray Regina
Gray Spook
Upcoming Hatchings:
Gold Couineth
Gray Noyth
Green Lady


With more dragon eggs on the sands, spring is bound to bring new life to Dalibor after a fairly harsh winter. Investigations into the dragon poisonings continue, but hope of finding the assassins is beginning to die.


copyright

Dalibor was created by Bre and is now owned and operated by Cathaline. Most of the information, rules, and graphics were made, compiled, or written by staff with credit given to those whose resources they used. Stock thanks to credited parties. All characters and posts are copyrighted to the members of the game. No material from this site should be copied in any way, shape, or form without utter express permission from the members and staff. All references to worlds and characters based on Anne McCaffrey's 'Dragonrider of Pern' series are copyright Anne McCaffrey 1967-2011, all rights reserved. The Dragonriders of Pern is registered U.S. Patent and Trademark Office, by Anne McCaffrey, used here with general permission for non-commercial purposes without monetary gain.



Dalibor :: From the Weyr and from the bowl . . . :: Hatching Sands :: Dead Of Night [Ausk's Hatching]

| | |
| --- | --- |
| « Page 2 of 2 Jump to page Go | |

Author
Topic: Dead Of Night [Ausk's Hatching] (Read 1,327 times)
Rii
Wingleader

riict[M:420]
member is offline





RP demon hungers...





Joined: May 2011
Gender: Female
Posts: 802


Re: Dead Of Night [Ausk's Hatching]
« Reply #25 on Aug 21, 2013, 3:43pm »

---

Wher hatching, Ietermath commented sleepily. Normally he wouldn't have bothered, but T'yandon had told his bonded that if he was a wingleader now, he would support not just his particular wing, but all of the Weyr. And that counted the wher program. Since most of their events happened while everyone was sleeping, it limited his options - he might have burned baskets of glows dull while up late working, but he did need to sleep. So he'd settled on at least attending the hatchings, starting with Ausk's.

Besides, he wanted to be there to support that shy young woman who had been so worried about offending him. He rather thought that Mengir would be a good choice for the whers, he was sure that there was some iron beneath that cowed nature. He coaxed his bronze awake enough for a quick flight down to the Hatching Grounds, making his way up into the stands to claim a seat. There she was, making her bow - well, curtsey, close enough - to the red mother. Good luck, Mengir. Everyone.

***

She wasn't supposed to be here.

Norilana wasn't a wher candidate - among other things, she wasn't old enough to be - but with the scrambling in the candidate quarters, she'd woken up and been curious. Why was everyone running around when it was nighttime? Granted, the wher candidates did their things at night, but usually it wasn't loud enough to wake anyone up. Then it clicked. There were wher eggs on the sands, and if candidates were scrambling, that meant they were hatching!

Nori slid out of her bed and pulled her clothes on in the dark, not sure if she'd wake her roommate or not. She hoped not! It would be really, really rude to wake someone up in the middle of the night if they didn't want to be woken up. Then she crept out of her room, closing the door quietly and soft-footedly making her way down the hall. Holdless got used to sneaking really well. That wasn't a habit being in the Weyr could break. Althouuugh… looking sweet and innocent and really really sorry if she got caught doing something wrong didn't work so well here, either.

Oh well! It wasn't like she had to steal to eat or anything, not here. Nori scampered through the rain to the Hatching Grounds, then peered up into the stands. It was so dark in here! It would be better with more glows but, she remembered from her lessons, that would hurt the eyes of the whers here. Even the babies! Happily she sighted a familiar face, not even hesitating to climb her way up the rows. She would have called out to him, but everything was so quiet. It was eerie.

Instead, she beamed at him and plonked down next to him. "Hi Joshu!" she chirped softly. Even that seemed too loud, so she dropped her voice to not much above a whisper. "Did the rain wake you up?" She was familiar with how the weather bothered his leg. Poor big brother. "I heard the candidates running, so I came to see, too. Some of the eggs are already breaking open, aren't they? That's not a lot of warning."

---

Reky
Alphahandler

rekyct[M:-999]
member is offline





SO PRO





Joined: Dec 2009
Gender: Female
Posts: 1,553
Location: Calgary, Canada


Re: Dead Of Night [Ausk's Hatching]
« Reply #26 on Aug 22, 2013, 9:51am »

---

There was a moment when the rain was heard to pick up, washing in sheets down Dalibor's cold stone face. The white noise intensified, waxing the ambient backdrop to the shaking eggs' hatching. The small egg broke fitfully, untrained; the black wheret inside was gnarled and thin, though bulky on his shoulders and forepaws like he wore a natural armor. His squat maw, dripping with ropes of eggwet, was courtesy of his sire, but his anger was Ausk's. He tossed his head; stomped. He didn't know why he was here in the first play. He shouldn't be here - it was stupid. He'd rather be home, wherever that was, or at least doing something worthwhile. The tiny beast fidgeted, staring down the candidates in the dark. 'All I want is to get home,' he wanted to explain to them. 'They're not paying me enough for this.'

The large egg, in contrast, split with surgical precision. The hatchling was careful to emerge cleanly, with no mess or stray shell. He knew what he was doing. He always did. It was in his nature to be correct. Calmly, the pale brown stepped out into the open glowlight, with posture altogether too perfect for a new-hatched wher. Everything about him, even, was too perfect. He almost looked like a miniature dragon, in proportion and form, save for the claw-like digits that should have developed into wings. He was sleek, refined, and composed. His egg could have very well come from some other dam, for he held no resemblance to either of his parents.

The brown tilted his perfect head; flashed his sharp eyes at the black. The larger brother was entirely content with his entry into the world. He found no unease. 'You have a job,' he reminded the black, who snorted and tossed his head defiantly. Being correct was in the brown's nature.

It was then that their green sister came out from hiding again. She peered intently at the dog, Kobold, from the edge of her shadows. The black set up a terrible noise, afraid, for in his few minutes of sight he had never seen anything so sinister and sickly as his own kin. She gave a feral hiss and leapt for the canine, tail whipping, but the black was fast, and had pulled her off the dog's face before any real harm could happen. He fixed his jaws into the meat of her shoulder, huffing - he hated this job - and took her down while she thrashed. The tip of her tail darted into his eye and he howled, releasing his bite. The green was gone again, and the black was seething, his eye closed tight and his teeth dripping with family blood.

The dark wher had been watching the antics silently. Even with the brown's egg now cracked, it had perfect the art of stillness. Its siblings did not know it was there. It was a hunter; a natural-born killer, waiting, watching. Behind the brown's back, though, she rose, and the deep azure sheen of her cyan hide became apparent. Her face was stunted and rounded, though her jaw was square. It seemed, almost, as if she had no eyes, but there were simply small. Her head curved seamlessly into her neck, smooth like a beetle's slick carapace, and spines erupted from her shoulders and back, all along her long, skeletal tail. Each part of her body was gaunt and intimidating. Though nearly only skin and bones, she was terribly strong and light. As she moved, her maw dripped with saliva. Each step was slow and calculated.

The black had began to hobble back to his brother. He pushed past candidates, worming between Newtollen and the boy next to him. He'd berate the brown when he got back; make him fix his eye, somehow. The near-black cyan, though, had found her opportunity. Terribly fast, horrifying, she was upon him in a second, her jaw extended and biting. The black had been right: he wasn't meant to be here. The cyan felt, instinctively, that she was the only one meant to survive. She needed to continue on. Deeper than anything, she felt the primal need to thrive and adapt. So the black, brave but stupid, was savaged. Newtollen's shins played the backdrop to her murder and took bites and scratches when the black squirmed too much. He was bleeding, dying, frantic; Audren stood on edge from afar but Ausk was placid. It needed to happen.

The black shrieked, overwhelmed with pain, and reached out in panic and fear. Newsk-- he cried to Newtollen, but all too soon the Impression was ripped away from the boy with the glasses. The cyan delved her teeth and claws into her brother's chest, shattered his ribs and punctured his beating, green heart. Then she dragged him away, hoarding her kill among the eggs.

The blood bond had not been made, but Newt would know what it felt like to die. It would hit him like a punch to the gut; a nausea that persisted for days. Newsk's life was fleeting. Even now, he hadn't reached that 'home' he so wanted to return to. His body was still baking on the sands.

The brown was entirely fascinated by both of his sisters. They were magnificent: the apex of evolution, the pinnacle of adaptive engineering, of survival instinct. Incredible. He watched the cyan with interest, but she left him alone, as if he wasn't worth her time; wasn't real. The rest of the cavern, though, was rightfully shaken - and Audren strode briskly over to Lliira, heart thundering in her chest.

"You take that dog and get out of here," she commanded.

---

Cathaline
Lady Holder

cathct[M:50]
member is online









Joined: Feb 2011
Gender: Female
Posts: 3,276


Re: Dead Of Night [Ausk's Hatching]
« Reply #27 on Aug 22, 2013, 3:31pm »

---

A tiny black hatched, a dark smudge in the night, the most forthright of the whers so far. Moments later, a glorious brown hatched, and Newt's mouth went dry; he adjusted his glasses, peeking over the top for a second to get a really good look. He'd never seen a wher like that before, and he instantly longed to run his hands over the hide, not even wet with birth. Not necessarily to Impress him - Newt could find something fascinating and beautiful in all of them - but to, you know, pick his brain. Scientifically.

Against the backdrop of shushing rain, the black's sudden cries at the sight of his green sister raked across Newt's eardrums, but he didn't move from his spot. The green attacked a canine that some idiot had foolishly allowed to wander in (and the dog must be an idiot too, or it would have fled at the sight and scent of a hatching of far more dangerous predators, in his opinion), and the black managed to save its life. Newt turned his head to watch their tussle, rubbing his sweaty palms on his robe, and winced when the dim glowlight illuminated ichor.

The black pushed past him on his way back toward the eggs, and Newt instinctively bent, just slightly, to brush a comforting hand down his back. He caught sight of the flash of movement, but there was no time to do anything - no time to defend the small black with the already-scarred arm he instinctively raised to protect his own face, no time even to move aside. They collided with his shins, not hard enough to knock him down, and the crying black tried to escape, clawing lurid marks onto Newt's legs.

Making him his property.

Newsk-- came a terrified voice that was not his own. Without licking the blood tracing its way down Newt's legs, the bond couldn't fully form, but it was still there, a solid and hot presence burning in his mind and in his soul. There was hunger and pain and panic; Newt cried out, his hand flying to his eye, a psychic sharpness there from the green's earlier attack. Everything hurt and then -

The final punch to the gut took his breath away, and then the pain vanished, only its ghost remaining, a sick and desperate feeling. Newt had knocked his glasses askew, and they dangled wildly from one ear when he staggered into the person next to him, clutching at Lirmox with a trembling hand. He had never felt so empty, and he was utterly lost to all propriety, to all rules. He should get off the sands, he was unfit to Impress as long as the nightmare persisted, he'd be lucky if he was ever fit to Impress at all -

She'd taken his Newsk away.

With a sobbing, shattered cry, he pushed off of Lirmox and tried to chase her down, but his foot slipped in the gory mess of ichor at their feet; he landed on one knee, and the pain was back, but violent and his this time, as sand and worse punctured his already-streaming shins. A blood vessel had burst in his eye from the stress and the shared - so briefly shared - horror, and he screamed, "Mine!" He wanted Newsk back, he wanted his body, he wanted -

Newt managed to get back to his feet, and this time collapsed in the opposite direction, leaning heavily on Jafari with an arm flung over his shoulders. "Please," he said, the word wrenching itself from his throat. "Please, I need him back - "

---

Kiran
Weyrling

kiract[M:-125]
member is offline









Joined: Apr 2013
Gender: Female
Posts: 605


Re: Dead Of Night [Ausk's Hatching]
« Reply #28 on Aug 22, 2013, 3:57pm »

---

Jafari went pale as the green that hatched attacked Lliira's dog. He couldn't move of his spot, only watched as Ausk ordered her and Kobold off of the sands. He was grateful that the dog was still alive and that the girl was safe as well, saddened that his request had meant she wasn't there to stay. Or perhaps glad. After all, it seemed this hatching was going far too eventfully for his taste, much differently than the last one he had been to.

The distraction of the dog nearly made him miss the tussle of the green and black. Jafari winced at the look of the eye. Gone. Whomever got it was going to hurt-

While his attention was going back to the eggs and hatchlings at hand, the cyan darted out to maul its brother to death. It was a vicious, gory scene and Jafari went white. Not pale, not bloodless, but white at it. He stared at the blood left splattered on the ground, a ringing starting in his ears right up until a cry and weight on him snapped him out of of it. newtollen! The black had partially bonded to him! The realization brought him back to the moment, wrapping his arms around the other candidate. "We'll get him back, Newt, don't worry. We just gotta wait a bit. Don't worry. When its all over I'll help ya get 'im back. Swear it." He prayed the candidate (ex-wherling?) was listening in some vague part of his mind. With the cyan on the loose like that they were in trouble if Newt made a move for the body now.

But the moment the Impressions were over, Jafari was going to haul their butts over there. That was the least he could do for Newt. He held onto him tightly, worried about what move the boy might make next out of desperation.

---

The Plots Of Plottiness

- The Place To Plot With Kiran

Gray
Wingrider

grayct[M:-350]
member is offline









Joined: Jan 2011
Gender: Female
Posts: 868


Re: Dead Of Night [Ausk's Hatching]
« Reply #29 on Aug 22, 2013, 4:17pm »

---

Lliira didn't like the feeling in her chest. It was stuffy and suffocating. It was like someone had set something heavy on her sternum and would occasionally push it down. Her throat felt tight. There was a prickling just at the edge of her jaw, and for a moment she couldn't open her mouth. It was something she was used to. Fear. Plain, simple fear. Fear, and her attempt not to bow to it.

If she focused on the rain, she could push it back. If she focused on the feeling of Kobold wrapped around her, his warmth seeping into her cold bones, she could try and ignore it. If Lliira could focus on everything, the pain of the bench on her behind, the tickle of Okku's antennae, the feeling of heavy, wet breath in her lungs, she could be brave. She promised Jafari she would be there. She didn't want to panic for no reason. It was silly, and she hated it.

Cracking one eye open, then the other, Lliira looked back to the sands. She was in time to see the black hatch, gooey and grostesque in all it's twisted draconian beauty. She thought he looked lost. Sad. Even though she wasn't sure if a wher's face could really look sad. What thunder he may have had though, was stolen by his brother. He was so oddly un-wherish that Lliira actually gasped. He didn't look scary. He didn't look really like what he was. He looked... Perfect. So perfect, it was kind of unnerving.

So distracted she was by the too perfect Brown, that Lliira did not notice movement near them. She didn't notice the stirring of the shadows. Kobold did though. The canine's ears perked, and his nose twitched as he took in the scents around him. She could feel his muscles tensing under her hand as he uncoiled himself from her seated form. True to form, he didn't make a sound, but the fur along his spine stood on end, and his neck fluff had become a mane. It was then that Lliira took notice. She saw the faint glint of what might be an eye and she could feel her Canine's fear.

There was a terrible racket, terrified noises from the black combined with Lliira's strangled cry and she pushed herself back. Kobold, like a dutiful guardian, placed himself in front of her as the green hissed and attacked. Growls quickly changed to whimpers as she latched onto his face, blood flowing as she raked and clawed at his face. Lliira cried you, trying to grab the offending where and fling it off, but the black got there before her. They fought, but Lliira only had eyes for her canine.

"Kobold, oh Kobold" She clung to him, sods wracking her thin form, tears fogging her vision. She could see the damage though. It was not fatal, in fact, it probably looked worse than it really was. There was blood and a few flecks of ichor staining his buttery fur, several laceration weeped dark red, one looked like it might need a bit of stitching, but over all, he was ok. Still, he whimpered as she held him close, Lliira unable to really get her legs to respond to her. Panic had already set in, nad all she could do was cling to her canine and cry.

The fight, though she didn't know it, was over. While Lliira wanted nothing to do with the hatching anymore, Okku did. The pillie followed the movements of the black as he made his way to the candidates. He watched as the Cyan struck, and a fresh fight broke out.
Esriii, esriii. He waved one antennae again, perhaps waving goodbye. Lliira would never know, if she even cared. Like the previous fight, it ended, and there was a victor. But in this case, there was another who lost, perhaps even more than the black had.

It was Newtollen's cry that broke Lliira from her self-made bubble. She looked up suddenly to see the boy cling to Jafari. She just stared, eyes wide and breath coming in rapid, short gasps. Then Audren was there.
"H-he didn't hurt her! He was a g-good boy. He didn't hurt. He's just...He's just a-always with me" She wasn't arguing to stay, she didn't want to stay. She just wanted fix up Kobold and go to bed. But she didn't want them to be mad at him. He was there because of her. It was all her fault. Shakily standing, Lliira motioned to Okku.
"Come on boys. Let's get Kobold fixed up. I'll see if we can get you some meat, ok boy? I'll get you taken care of." One hand firmly holding his scruff, she carefully led the canine down from the stands. She hoped Jafari wouldn't be upset.

---

Chek
Weyrlingmaster

chekct[M:-15]
member is online





I'm so magical I vomit rainbows





Joined: Jan 2011
Gender: Female
Posts: 1,087
Location: The mental gutter.


Re: Dead Of Night [Ausk's Hatching]
« Reply #30 on Aug 22, 2013, 5:01pm »

---

Yhimere woke to a band of needles around his wrist. Napping with his full and drowsy wher wasn't all that uncommon for the ex-Weaver; a season in and his sleep schedule was a still a little out of whack, not having had time to grown into it as a Candidate; Yhisk's sleepiness after being fed was practically contagious in these circumstances.

The green wasn't sleepy now. Mouth still fastened around her handler's wrist, she stared up at Yhimere with his blood trickling lightly from her jaws, Hatching, she told him, solemn and hunched up with the slightest touch of orange in her eyes. He slid the glasses resting on his forehead down, the world coming into sharper focus as the gift from his first and still best friend settled over his eyes. Newtollen would be Standing, then. What kind of friend would miss that?

He made it into the Stands just as the green made her attack on someone's canine, and Yhisk snarled and thrashed her legs, but she was safely tucked under his arm, where she couldn't get involved. "It's not our place, shh."

He tensed, though, when the cyan started her charge just as the black reached Newt. He jolted down a few steps before he checked himself again, but Yhisk was snarling and flailing viciously now; he was loosing his grip. Then the black was down and…Newt was… "No," the greenhandler breathed, dropping Yhisk.

She started down the steps, a streak of green with murder on her mind, but she was intercepted before she could get far, Damask coming from the side and over the benches and clamping her mouth down on the young green, pinning her to the ground. The green turned, wanting to squall her rage but unable to because Damask was smushing the air out of her lungs – instead, she latched teeth into the red's nose and jerked her head back and forth, snarling.

Yhimere jumped the red and his struggling wher, Yhisk shouting encouragement for his mind alone, his eyes locked on Newt as the poor man tried to go after his bonded, but where there was a red wher in Dalibor, there was a redhandler. Damali hit him from behind, kicking his feet out from under him and catching him under the armpits, hauling him off his feet. He swung his head back and clocked her in the face with his skull.

Her grip loosened a little, letting him touch the ground again and start to pull away, but the redhead kicked him hard in the back on the knees, dropping him into the benches next to a pair of handlers which she knew well, "Dita, Edison! Help hold him down!"

Yhimere bucked and thrashed, "I need to…get down there, get him off the sands! Why are you stopping me!"

Damali got a hand on the side of his face, mashing him against stone, "That's not how it works! I know how you feel, trust me, I know EXACTLY how you feel, but getting Ausk angry is NOT GOING TO HELP ANYONE." She risked a glance down towards the Sands, but it seemed like she'd put the wherling down quickly and quietly enough to avoid too much attention.

Damask?

Green held, bites pitiful. Kalesk. Wherling upset – friend be new-wherless . Have restrained. Your wherling, what want done?

A few rows down, Embla turned back to return to watching the Sands and the Hatching, eyes wide.


---

Dragonwher
Weyrling

dract[M:215]
member is offline





A wild Tomboy appears!





Joined: Feb 2013
Gender: Female
Posts: 213


Re: Dead Of Night [Ausk's Hatching]
« Reply #31 on Aug 22, 2013, 5:30pm »

---

That first scuffle between Audren and one spectacularly nasty tempered baby wheret had definitely only been the tinder to a larger conflagration of flames in the form of eye-catching bloodshed. Though it took all Randiel's willpower not to move in his fellow Wher candidate's direction. Though between his mental and very physical anguish as well as the dying shriek of the black wheret that had looked them over before saving someone's dog. Clearly at the cost of his own life.

Inwardly Randiel's heart went out to Newt; but if he moved he too risked being marked up. So, now more than ever Randiel was glad of his idea to keep his sister firmly away from this. In contrast to what he had witnessed thus far with on hatchling attacking a dog while another killed her clutchmate black right as he tried to bond; the brown had confused him. Resulting in Randiel knitting his brow together for a moment. From what he heard of Red anything weren't their kids supposed to be as snippy snarly as their dam?. Then again, the brown might have picked his calm attitude up from his sire's genes.

This would of course be the misguided thought of one who didn't know Cilisk. He even assumed Ausk's mangled remaining wing had been due to a male she had thrashed not the one who forced himself on her. With a mental jolt he realized he was wool-gathering; then snapped his attention back to the sands. While physically focusing back on the sands it was harder to tune out the sounds of distress. Especially when it made him feel terrible to do so. But he couldn't change what had happened, only mourn for the life lost. Deep down he hoped the healers kept Newtollen from doing anything that would result in him not finding a potential partner later. He was pretty torn open mentally and physically but maybe a different Wheret or even a dragon might see him as a worthy partner.

As Randiel worked on retaining some measure of calm his eyes alone resumed scanning for anything headed his way. Though he knew the rules on how to act for hatchings, he didn't think trying to let a wheret gnaw on his forearm as he tried to push it lightly back would be too extreme. But he did sincerely hope that wouldn't be tested. As he tried to keep to his own little bubble a fragment of guilt popped up before evaporating. He had just thought he hoped he wouldn't be mauled; and look what happened?. His more emotional side fretted for all of a few seconds before his rationale returned and smashed the fret-filled thoughts like glass. Despite what his heart felt now, there wasn't room for fretting. So he finally calmed and tried to centre himself more completely. To assuage his now minuscule worry he promised himself he'd at least try to find out if Newt had any friends and whether they found out if he'd be ok after this hatching.

Though a likely friend of Newt revealed himself somewhat loudly; in a way not unlike how he'd acted for his sister at the hatching she found Malinoth at. From the scuffles he could hear but didn't dare look at, it sounded like at least three people just pounced on the other male. So it might be a good deal of time before he got the chance to talk to the male he heard struggling to get down to the Sands. And failing if whoever pinned him had any say in it clearly. Not having stood for Damask's clutch however Randiel hadn't any clue on what she sounded like. So he wouldn't recognize her voice but he'd recognize Kalenna and Kalesk. Only if he was stupid enough to look back. Which he liked to think wasn't the case; regardless once things settled and he either Impressed or was left standing; Randiel definitely wanted some rest after this already manic hatching.

---

Zephyr
Weyrling

zephct[M:150]
member is offline









Joined: Mar 2013
Gender: Female
Posts: 299


Re: Dead Of Night [Ausk's Hatching]
« Reply #32 on Aug 23, 2013, 12:24am »

---

The eye had definitely passed.

The wherlets, lurking in the shadows, seemed to explode all at one time. About the same time that the perfect brown split his egg and stepped out onto the sands. Like all of them, Adelaide's attention was hopelessly focused on him. She'd never thought of whers as anything other than powerful, strong, maybe adorable at times…but there was no other word to explain this slick brown but gorgeous.

She was so busy watching him, that the flash of the sickly green came as a complete surprise. The yelp of the dog came too soon and Adelaide lurched forward where she stood, having to physically restrain herself from going to the girl and her dog. This wasn't her place though. The pair wasn't her concern and drawing attention to herself by going to help wasn't the best idea in the world. At best, she'd be kicked off the sands; at worse, Ausk would see her as a threat to her children…or the wherlets would see her as a threat.

Addy didn't like it, but she didn't move. The girl bit her lip and forced herself to stare at the clutch, because she knew that those dealing with the girl and the dog had the situation under control, and white knighting wasn't the sanest decision that she could have made.

Of course she'd wished she'd done something soon enough when the black baby was slipping in between the candidates and the dark cyan came out of nowhere. Letting out a helpless little yelp, Addy half jumped to the side, heart hammering in her chest at the sound of frantic crying and the scent of ichor filled the air. Wher hatchings were like nothing she's ever seen in her life, and she almost thought about trying to slip out…if only she wasn't so petrified that one of the wherlets would turn their attention towards her.

There didn't seem to be any consequences of the cyan slaughtering the black save for the sick feeling in the pit of her stomach…until the boy'd who'd been close to the wher lurched forward and she knew that the black had impressed to the boy before it'd died. Adelaide inhaled a sharp breath, having to keep herself, once again, going to someone's aid. There were plenty of hands to catch him as he fell, and then in his reckless flight towards his dead wher's side.

Adeliade felt for the boy, her heart breaking for him as he sobbed on the sands, but once more, she stayed put. He had enough people to look after him, and she didn't even know the boy. Adelaide wondered if he was going to be escorted off the sands. Surely they wouldn't let him stay…he was out of his mind with grief and an excellent target for the vicious females. Her arms shook almost imperceptibly. Things were going from bad to worse, and there were still wherlets left to impress…including the aggressive girls. She desperately hoped that one of the monsters wouldn't choose her, but she couldn't leave. Once all the babies had impressed, she'd be free to go without fear. She just had to make herself be unobtrusive, and maybe the wherlets would leave her alone.


---

RavenSong
Jr. Weyrleader

songct[M:-364]
member is offline









Joined: Jan 2011
Gender: Female
Posts: 709
Location: Under a rock.


Re: Dead Of Night [Ausk's Hatching]
« Reply #33 on Aug 23, 2013, 12:36am »

---

Mengir was nervous as she stood there on the Sands. She was naive, she was mostly innocent, she was many other things... but she certainly wasn't stupid, and she could pick up on the feelings of others given time.

Her fellow candidates were also nervous. She remembered from lessons what to do, and knew that she had to stay still or they would bite.

She didn't want to be bitten, not until her wher had come to her. Her eyes traversed the wherets she could see, from the black to the green to the cyan to the proper, perfect brown. He caught Mengir's eye. Since Moosk, the young woman had a soft spot for brown whers.

It wasn't until the cyan lunged and killed the black, sending Newt into hysterics, that Mengir showed any emotion. Fear appeared on her face for a split second before she remembered that she mustn't move, mustn't show any emotions at all. She was saddened by the black wheret's death, but Newtollen's reaction to the death pulled at her heartstrings. Ohh, how she wanted to help him. If he ended up near her, she'd comfort him. She carefully watched him and the wherets, uncertain as to if she'd be attacked.

---

Davalla stood in silence, mentally muttering. All these holdbred or weyrbred people amongst her own people. Hmph. She didn't approve, but it wasn't something she was likely to mention. She watched Lirmox and Jafari, wondering if their feud was going to be noticeable. She looked around for her sister, but couldn't find Idra in the darkness. She looked for anyone she knew, but when she realized she was moving too much she stilled.

Her eyes fixed on the murderous cyan, a faint grin curving her lips. Oho. A powerful lady who dealt with things that annoyed her somehow in a definitive fashion. She could get behind that. She adored that, in her own way. Still, she felt bad for Newtollen. That had to have hurt, having that brief Impression right before the wheret was killed. The fact Jafari was the one he went to made Davalla pause a moment. Deciding Newt was in good hands, she looked toward Lliira's dog to make sure the beast was okay. It seemed it was, since Lliira was escorting the dog out. Oh, there was a pillie. And Audren was over there handling it... mmmkay, time to watch the wherets and dodge any incoming murderous babies. She wasn't quite interested in her pale flesh being rended beyond what was required for Impression.

---

Naras sat well away from the wherets, observing them. Yet another hatching where nothing went smoothly. The Harper wasn't at all pleased, but he let it go. Some things couldn't be helped, and he supposed that he'd be bored if things were perfectly non-dramatic around the Weyr.

So Naras decided he was going to work on a dramatic symphony for the Weyr, incorporating dragon, firelizard, pillie, and wher voices. He'd have to remember to approach Audren later and ask if she knew any pairs beyond Naanell and Naanesk that would be interested in singing the Daliborean Symphony. He paused, thinking over that name. Daliborean Anthem? Hm. The title could be worked on later. Perhaps a deep, dark melody to represent the whers would be ideal. The piece would, of course, have to be performed at sunset...

Drifting off into his own musical interests, Naras kept half an eye on the Hatching. It was interesting to see who would Impress to which color, and what the wherets' names would be, but beyond that, he was done with Hatchings. He'd spectate, but he was done trying to immortalize one for the annals of history.

---


3993271010a66871770029290000000c809aaa6844f0ffffe9aac4c9b3a51d3932c6e2ff

Gray
Wingrider

grayct[M:-350]
member is offline









Joined: Jan 2011
Gender: Female
Posts: 868


Re: Dead Of Night [Ausk's Hatching]
« Reply #34 on Aug 23, 2013, 9:56am »

---

It had started with a simple Disk am see babies now!. Disk had an innate smallometer, and she knew, she always knew when there were babies. Dita, not really doing anything important, could not find a reason to argue with her. So that was why they were there. That was why he was staring, slightly aghast at what had happened. Not aghast for the death, as a wher handler, you got used to death. But aghast because the wher had obviously impressed. That poor boy. Disk let out a low croon of sadness, but Dita had no time for that. Out of the corner of his eye, he saw a streak of green. Disk must have too, for she instantly stopped her crooning and moved to intercept. Damask was there though, good Damask, so swift to stop any interruptions. Dita had a moment of pride before he noticed that the green's handler needed containing as well.

The moment his name was called, he was up.
"Comin' boss." Disk at his heels, he marched over. Holding people down wasn't his favorite hobby, but he knew they couldn't let Yhimere down there, not now. Dodging a few kicks, he did his best to grip the young man's feet.
"Calm down boy! We'll get him off as soon as we're able. Even if it was for a bit, he's a handler. We don't abandon handlers here."

Disk too wormed her way over and brushed against him, humming one of her gurgling lullabies.
Sad baby get help as soon as RedAusk say ok. Is stay, no anger AuskRed. No more blood on sands, no more sad babies. She crouched near Yhimere, willing to add her bulk if needed as well.

---

Chimera
Weyrling

chimct[M:-380]
member is offline





:o





Joined: Jan 2013
Gender: Female
Posts: 587


Re: Dead Of Night [Ausk's Hatching]
« Reply #35 on Aug 23, 2013, 10:11am »

---

At last, there seemed to be motion on the Sands, more than just a baby's foolish attack on Audren. Lirmox watched the wherets hatch - he watched the green, the black for a moment, the mysterious dark wher who he could only see if he concentrated...

...And then a brown dragonet hatched.

Well, he wasn't a dragonet, but besides the newly-hatched brown's wings, he could have easily been mistaken for a member of his diurnal cousins. Lirmox was fascinated by the perfect-looking wher, as many other candidates seemed to be - the creature bore no resemblance to his clutchmother or whatever wher his sire was.

The mysterious dark wher lunged at the black, and the blond could only look on helplessly as he realized Newtollen had bonded to the wher, lost a piece of his uncompleted soul, before his other half had been so brutally murdered by his sister, the monster of a cyan. The once-cheerful, talkative wher candidate was far more broken than Lirmox, who stared with sadness and sympathy for Newtollen as he clutched at the boy, before stumbling into Jafari. From what the blond wher candidate saw, Jafari was taking better care of Newt than he could. All he could do was steel himself with the little courage he had left for whatever lay ahead.

And that moment Lirmox realized why the hatching was so unnerving, far more than a wher hatching should have been.

The silence was like that of a nightmare, except this was one he couldn't wake up from.

***

Lanorun, one of the newest wher candidates, had been standing quietly throughout the hatching so far, and continued to do so, calmly but angrily watching the whole ordeal and the death of Newtollen's wher. An innocent life snuffed out after minutes of its existence, but there was nothing to be done. He turned briefly to the Stands, seeing Joshu, and...Nori? He frowned for a moment, but Joshu would have to be responsible for taking her away. She wasn't supposed to be here, a dangerous hatching in particular. Lanorun boiled with fury inside but he was helpless, unless he wanted to break the rules and endanger himself and others.

He wasn't going to do that.
***

Dardranel sunk lower in her seat, shedding a few tears at Newtollen's murder. Not long ago, she'd bumped into the boy and he'd been so...so nice, and...why did this happen to nice people?! She was too fixated on the events by now to leave, and watched Yhimere with pain. He needed to be there for his friend, Dardranel knew a similar feeling, but the most help she'd be would be to wish him luck.



---

lee
Wingrider

leect[M:190]
member is offline









Joined: Mar 2013
Gender: Female
Posts: 320


Re: Dead Of Night [Ausk's Hatching]
« Reply #36 on Aug 23, 2013, 10:48am »

---

Angry.

At the desperate cry of the boy in spectacles, the crunch, sick, of the fallen black, something hot spread in her gut, slow and scorching like a lump of ore on the verge of melting, and it took Braele a minute to identify it as anger. She wasn't naturally inclined to anger, and even now the emotion wasn't a roiling, bursting sort, but more like the scorching crawl of hot lava, smooth and potent but escapable, contained, inches of earth consumed in their entirety compared to the careless blaze of a wildfire stretching over dragonlengths. When she identified the emotion at last, it surprised her. The surprise didn't ease it, but it allowed her to analyze it, recognize the taste even as her eyes continued to track the swift, secretive movements of the prowling wherets. She wasn't angry at them. And if she was afraid it, like her anger, was muted, a pale reflection manifested in dark, wary eyes and tensed hands that flowed to brawny shoulders held ready. Death was, always would be, natural. She was fairly blasé about that. It was the anguish it caused, unnatural in its intensity, though she could hardly fault the boy who's mind had no doubt been ravaged as his legs had. It was the helplessness of it, she decided.

Helpless tasted like metal, sharp and wrong. There was an impotence to 'helpless' that she detested, and that was the source of the anger.

She tossed it back and forth in her mind, and settled it to be set aside, a physical feeling rather than emotional. If she was angry then let it be fuel to quicken her responses, move faster though for now she had to be still. 'For now' could be mere seconds at a wher hatching, as the chaos that had exploded and abruptly settled had shown. The waiting seconds vibrated and Braele felt her pulse respond to it, skitter and then settle, as the three children of a red wher watched.

---

She couldn't be here. That horrible thought sunk into Joshu's stomach like spoiled meat, rancid and wiggling. His heart leapt into his throat and before he could stop himself he'd half-risen, cane clattering from his hands as they rose to Norilana's shoulders to shake them, face contorting into black fury that was borne of panic. These were whers. They would not plod placidly from their confinement to demand pats like a canine. There would be blood, and no guarantee that it's spilling would be constrained to those on the Sands. The Weyr may claim its handlers had control of their bonded, but Joshu, former Holdless, had no memory of watchwhers and their weyrbound kin, only wild, whirling eyes kept at bay by fires watched through the night.

The whisper came out as a snarl that died into a plea. "Ye can't be here, Nori. Nori--" but too late, already too late, for by her own words she had identified the hatching as begun, and leaving now would be more dangerous even than staying. With one last dark look that bespoke a coming lecture when this was over, Joshu retrieved his cane and lay it over his knees like a barrier, settling himself like a rock so the only view his sister could have would be over his shoulder. He would block her view entirely, but he knew she would find a way around him and he didn't dare risk it. This was a compromise, and with solemn eyes he begged her to accept it, his request a quiet, simple, "Please." It was cliched, but so help him, any wheret would have to get through him first to get to the precious light protected behind him.

He watched, face impassive and stony as the small black tore at one of the boy's legs, and was ravaged in turn. The boy--young man, really--cried out, and Joshu let his eyes slide away because he knew pain and it was private, and he didn't wish to worsen it by witness. His expression, if it were possible, only hardened as the canine was attacked by a sickly green, and the black cyan disappeared again. Had the sibling behind him been Ranthian, or Lanorun, he might have elbowed them, might have raised an eyebrow and murmured how the brown looked so very like a dragon, and the irony if it turned out to be, as Yhisk at Wenth.

But it was Nori. And he could only worry, could be aware of the wherets only as a potential threat to something precious in a way that hasn't been a threat, only a fascination, when it had been him alone.

If he believed in luck, he may have wished that the murder of the fallen black would be the worst of it. That Newt's grief would be the last of it.

But Joshu, abuzz with anxious unhappiness, didn't believe in luck, and gripped his cane tight.

---

Azhdarchid
Wingrider

azhct[M:-1490]
member is offline





Totes.





Joined: Feb 2011
Gender: Female
Posts: 1,618


Re: Dead Of Night [Ausk's Hatching]
« Reply #37 on Aug 23, 2013, 11:21am »

---

No stranger to the cracking of bones, Tussbuul observed the death of the black wherlet with his lips simpered up in curiosity. But he was more relaxed when the violence rolled around than he had been waiting for it. Tusk loosed from her iron coil around him, rubbing her sharp cheekbone against his before she wormed first her head, then her neck over his shoulder. She finally got one thin arm over and placed her paw against the bench, the hopped down into the avenue between benches and tilted her blunt-snouted face back up at him. Her tongue flicked.

Tuss rubbed her head, though not without ulterior motive: he used it as a balance, getting to his feet. Tusk's tail twitched as her bonded moved down the row, she just a step behind him, muscles crunched up into higher and higher alert. But her handler just waved his hand at her when he finally accessed the main step.

You stay.

All-right. A prim puff erupted from the end of Tusk's nose, but the green sat down at the head of the avenue. Tussbuul waited till a young Apprentice had gone by to begin his ascent, following her with his eyes. His face was a mask of disapproval that he had not utilized in so long it hurt. But soon she was gone, and the show was no longer needed. He followed the blood spots on the stairs back down to where Audren was standing. Tussbuul was not smiling at her either, but he did not look long. He headed up the steps, and left the cavern. Tusk reared onto her hindlegs till he had disappeared from sight, then dropped down and paced back up the avenue to where they had been sitting.

But this civilized viewpoint did not sit well with a wher alone. She slinked over the benches in front of her, down to the Sands barrier. Smushing up against the wall, she propped her head on the top. The pouch of extraneous skin normally collected around her chin ballooned out like a pale, thick pancake. She went still, save for the flushes of yellow tongue off the purse of her lips.

---

Rii
Wingleader

riict[M:420]
member is offline





RP demon hungers...





Joined: May 2011
Gender: Female
Posts: 802


Re: Dead Of Night [Ausk's Hatching]
« Reply #38 on Aug 23, 2013, 3:13pm »

---

Nori took the sudden grab-and-shake of her shoulders as a matter of course; just so did Joshu respond any time he thought she'd gotten into more trouble than was safe, from going to gather herbs alone to trying to big-innocent-eyes her way past a Hold guard. If she'd chanced her health or freedom, he got upset. In fact, she could see him drawing breath for a monumental scold before she pointed out the eggs were hatching. That should delay him.

It did. Her big brother cut off his words with one last glare, then shifted his bulk so that he was in front of her, not beside her. She would have argued, or pouted, because she was thirteen whole Turns old, thank you very much, and she was a dragon candidate and one day she'd be standing down there with whatever hatched, but that please took the wind out of her sails. He was afraid for her, and she felt a tiny spark of guilt for worrying him at the same time as she wanted to huff because they were in the stands, not down there on the sands with Lanorun. Who also gave her a frown. Oh good. Two scolds instead of one. Maybe three, when Ranthian heard about the whole affair. Frowning a little, she nodded and hooked her chin over Joshu's shoulder, so her head rested trustingly against his, one hand hanging loosely onto a fold of his tunic. And watched.

Nori was no stranger to blood and death. She'd seen her parents get consumed by the leading edge of Thread, glimpses as she ran that she'd never forget; she'd seen Lanorun take Joshu's leg off to keep it from doing the same to him. But there was still something horrible about how the one wheret tore into the other, the spray of ichor as the little black's chest was torn open. She squeaked and hid her eyes against Joshu's shoulder for a moment before peeking again. That scream. The bond had started with that boy before the killing. Somehow that was the most horrible thing of all. Her hands clung tight to the back of her big brother's shirt as she peered down onto the sands.

Maybe she really wasn't supposed to be here, but she couldn't leave. Not just because it was dangerous, with the wherets prowling. Lanorun's still down there.

---

Cathaline
Lady Holder

cathct[M:50]
member is online









Joined: Feb 2011
Gender: Female
Posts: 3,276


Re: Dead Of Night [Ausk's Hatching]
« Reply #39 on Aug 23, 2013, 3:49pm »

---

Edison did not need to be told twice. His brow furrowed when the boy on the sands cried out hoarsely; he could see what must have happened, and it did not surprise him to find that one speccy boy was attached to another, either. Seeing Dita go for his feet, Edison ducked round behind Yhimere and grabbed his arms in a wrestling hold, threatening him with pain if he continued to struggle. "Keep it down!" he warned.

Kalenna glanced up at the stands when Kalesk relayed the message, and hurried into them, leaving the gold to her own tasks. She was not completely unfeeling: Newt was going through something horrible, and of course Yhimere felt for his friend, they were extremely close. In fact, she thought with a wry smile, on occasion Newt showed up to wherling lessons before Yhimere did, and she had to gently send the boy packing. Hopefully the emotional blow wouldn't ruin him for candidacy.

But her wherling was her concern; Newt was Audren's. "Thank you," she told Dita, Edison, and of course Damali, standing over the struggling wherling. "Get a hold of yourself and your wher before she breaks away and gets herself injured," she ordered Yhimere. "I understand you're distraught, but your friend is going to need you when he gets off the sands, and I cannot allow you to go to him if your wher is unchecked. You've had lessons in control. Use them, and think. Going down there right now will just make Newtollen an even bigger target than he's attempting to make himself in his grief. You can help him most by calming yourself and walking down to the healers to meet him."

Kalesk might be the queen around these parts, but she was not lost to the propriety of her situation. The sands were Ausk's tonight, and Kalesk had never felt a need to fight for dominance with the current Alpha, either. But the candidates would be hers in a matter of months, and she stalked back and forth on the edge. She did not want Newt to die and she especially did not want his panic attack to place the others in danger if the wherets took exception. But there were only three of them - they might Impress at any moment, and interference could disrupt it, force them to go wild.

So she remained at the back, prepared to step forward to assist if necessary, and deigned to touch Jafari's mind in a way she rarely did with anyone but her handler. Good boy. Put hand over mouth. Loud one. Newt was indeed still sobbing wretchedly, though at least he'd gone limp and stopped fighting to go after his wher's body.

---

Kiran
Weyrling

kiract[M:-125]
member is offline









Joined: Apr 2013
Gender: Female
Posts: 605


Re: Dead Of Night [Ausk's Hatching]
« Reply #40 on Aug 23, 2013, 5:09pm »

---

Jafari held Newtollen tightly as he continued to cry, which then devolved into deep, heart-wrenching sobs. He continued to murmur to Newt about how they would get his wher back, soon, soon...

The sound of another voice in his head got his attention quickly. Another wher, giving directions. Jafari listened and obeyed, clasping a hand over Newt's mouth. "We gotta be quiet for a moment, Newt," he whispered in the boy's ear. "It'll only be a minute. And then we'll get 'im back for ya. I swear. Both of us. Just give it a minute." The words were breathed with a watchful eye towards the other three whers, stomach tightening at what might happen next. Would another wher die? Would a Candidate?

The commotion in the stands didn't make him flinch a bit, simply made him double check the tightness of his grasp. He could feel Newt's breath on his hand, heavy and wet with tears as sobs were muffled. He hoped the rest of this would go quickly. If Newt made another sudden move... Jafari didn't want to contemplate it, for all their sakes.

His eyes moved from wher to wher, wondering what would happen next. Would the cyan attack next? The green? The green seemed just as likely to do it as the cyan. The brown Jafari couldn't even guess at, it was so different from any other wher he had seen. Best to stay still and wait. It was the only thing they could do.

---

The Plots Of Plottiness

- The Place To Plot With Kiran

kireon
Candidatemaster

kirct[M:-191]
member is offline









Joined: Sept 2011
Gender: Female
Posts: 739


Re: Dead Of Night [Ausk's Hatching]
« Reply #41 on Aug 23, 2013, 5:57pm »

---

Cilisk perked up at the sight of the little, thin black wheret. That one was his, he knew the shape of his own snout anywhere, and the thick, bulky shape of the shoulders and forelegs were like his own as well. His eyes slid towards green, pleased at the sight. Mine, Cilia. Look. He even sounded smug and pleased with himself overall- ignoring the fact that it was "only" a black. His child was alive, and that was what mattered.

She smiled, distractedly, apprehension hidden in the deepest part of her heart. Wher hatchings were notoriously unpredictable, and this one could go either way. There was nothing either of them could do, not without risking Ausk's wrath and wrecking havoc on the hatching itself. The large egg split as well, and a positively glorious brown stepped out- looking nothing like either Cilisk or Ausk. Wow.

Cilisk puffed up in pride. A fine brown to add to Dalibor's ranks. He approved, and look at that strong, business-like manner. A proper wher with priorities, that was certainly his child, not Ausk's. Also mine, Cilia. Good strong brown. He beamed, leaning heavily on his handler in an unexpectedly good natured imitation of her own playful manner. The tiny shrieking of the black ceased his good mood as the sickly green child launched itself in a murderous attack on a canine.

Ausk's, there could be no other. He would never sire something so terrible. Stupid canine for going in harm's way, foolish human for not making the four legged one stay where it was safe. He rumbled his displeasure at the sight, though the rumble turned approving when the little black launched himself forward in a terrifyingly wonderful display of speed and agility certainly not of his Sire's make, nor of the thickly muscled Ausk's either. Good egg, that. He commented, feeling Cilia's approval bolstering his own.

It was the blink of an eye that did it, and the next thing they knew, there was a deep, shimmering monstrosity slaughtering her own clutchsib. Cilisk's grief filled the cavern with a thundeorus roar as the black's life was snuffed out. One healthy addition to the Weyr was gone, all because Ausk failed to do anything but stand there. She was no Queen, he decided, fangs bared. She was no Queen, and he would leave her for Slosk if the time came for it. She was Unworthy.

Cilia closed her eyes, grief from Cilisk welling within her as well as she reached up, tugging the gnarled protrusion against his jaw until he stopped resisting and turned to her, flat, knobby head flat against her torso, stomach and shoulder. "Shh," she soothed softly. "he gave her a fight, Cilisk. He went down like a true son of your line." We will grieve later, I'll ask to let them give you a moment with the body of the little one. And his bonded will need comfort as well.

Damali, need our help? Cilia borrowed her wher, asking her Prideleader for orders, hoping there would be something to distract Cilisk from the pain of losing one of his blood.

**

Kairhi watched in fascination as event after event happened. So this was a Hatching; totally exciting, scary and full of unexpected events. The little wherets were as ugly-cute as she'd heard, and she had high hopes for every single one of them. Her brow furrowed as she tried to do as the lessons had taught her; keep her mind as clear and positive as possible, in hopes that the very impressionable and sensitive babies wouldn't get scared or angry at unexpected things.

Such a thing was hard when violence erupted, Audren automatically securing herself in a firm, unwavering second place to Ondine as Role Model and Rival Material in her eyes with her effortlessly flick of her wrists to teach the naughty, neon green wheret who the boss was. Dark eyes darted, hand squeezing Mairhi's again in tense preparation to defend her younger twin from harm's way if that little green decide to try and turn those tiny, wicked claws and fangs on them.

Why wasn't the mother doing anything? Didn't she care about her handler? Most whers were territorial, their handler was theirs, no one was supposed to be allowed to touch them.

And then the cute, brave little black was murdered, right in front of what appeared to be the little one's bonded. Her heart went out to the poor guy, her eyes drifting temporarily to Mairhi's face to gauge her reaction and felt her heart pound, throat constrict in sorrow for him. The roar of another wher somewhere in the stands made her jump a little, attention jerking to a brief shimmer somewhere up there. Maybe that was a friend, or maybe the daddy of the clutch.

She hoped that poor Newt would be okay, she and Mairhi would have to go get him later and make sure he didn't do anything to hurt himself.

---

Reky
Alphahandler

rekyct[M:-999]
member is offline





SO PRO





Joined: Dec 2009
Gender: Female
Posts: 1,553
Location: Calgary, Canada


Re: Dead Of Night [Ausk's Hatching]
« Reply #42 on Aug 24, 2013, 12:37am »

---

Audren pursed her lips and turned before Lliira left; she had no patience for the girl's excuses. In truth, she couldn't care less if the dog hurt the green - she was worried more about having some little girl and her dog injured than that. But in her eyes it was just plain irresponsible to show up, nearly in the middle of the night, to a tiny, unadvertised wher hatching with a pet. She didn't care enough to explain. She had a wailing wherless on her hands; an upset wherling, too - but Yhimere was Kalenna's, and Kalenna had it under control.

"Newt," she said, coming up to him, Jafari, and Lirmox, arms held out. "Newt, here, come on. Let's get you away." She extracted him from Jafari, taking his arm over her shoulder instead, holding him up. The exchange brought the green wherlet out of hiding again, scuttling around the edge of the shadows as if she still sensed the residue of Newsk. She wanted something to do with her brother, something, something terrible, but she didn't know what. She wanted revenge but she didn't know it, and she hissed high and shrill, bleeding on the sand, and raised her tail in an imminent leap. But Ausk, who had watched everything, catlike, with morbid interest, finally came in from her detachment and snarled at her spawn. The green spun around, still hissing and rigid; she backed towards Newt, Audren, Jafari, and Lirmox. She tossed her head in defiance. She didn't know what she wanted, but it wasn't what Ausk wanted.

Leave... alone! she shouted, but the cry didn't get to Ausk. It went the wrong way. She whipped her neck about to find the mind that got it and, frantic, twined around the recipient's leg. She latched on with claws and teeth, possessively. MINE, she spat at Lirmox, and he would know her name as Lisk.

[spoiler]Green Lisk, Bonded to Lirmox - a6a782

Lisk is a difficult wher to read. She is direct, impatient, volatile, petty, and chaotic. When she doesn't get what she wants, she is quick to bite and lunge. The biggest problem, though, is that even she isn't good at sorting out what it is that she wants in the first place. To an even greater extent than her beastly sister, Lisk doesn't ever seem like she was ready for the power of her own brain. Everything about her is primitive and grotesque. She is a monster, not a thinker.

In mannerism, she is twitchy, mad, and roguish. She doesn't understand anything about etiquette or human-made rules like property and karma. She is always taking things, snapping at people, talking to other humans, interrupting, and generally being a nuisance. She is quick to take a disliking and quick to hold a grudge as long as her memory permits. She needs to be reigned in and mediated by Lirmox at all times - a difficult task, but rewarding in some strange way perhaps, like taming fire or catching smoke.[/spoiler]

Audren, holding Newtollen to her to guide him, looked at Lirmox's back in the dark. "Good," she said quietly; she'd at least have one wherling. A troubled one, but one at least.

The cyan, tucked away in the shadows of the mangled eggs, did not eat from her brother or shred him further. She lorded over him, hunched, as if saving him for later, or something more ulterior. She paced around her domain, minding not for Ausk or her sister. She stepped over the eggshells, and arced her neck over the small remaining egg. She bit at it, and found the shell fragile, rotted from the inside. A yolklike, half-formed wher slid out onto the sand, and the cyan's eyes flashed. The brown's did, too, glancing over at the smell and the glossy form of their could-have-been sibling. Something about it set the cyan on edge; the lost potential, perhaps, but she couldn't pin it. She snarled and swept her eyes over the candidates. They were afraid, and she decided that they should be. They weren't her kind, not like the fetus seeping into the sand.

With terrible purpose, she moved forward. She needed to triumph. They were in her way. She was fast in the glowlight, her hide glinting as she ran and darted. She wanted to kill the candidates, she thought. She wanted to kill them, but she was so small herself. She sank her fangs into Kairhi's leg, and Mairhi's. Ausk's growl was low and formidable, but the cyan ignored her. She clawed at the back of Braele's sandaled heel. She lashed her tail and fixed her eyes on Mengir, ready to leap, exploring her delicate mind - but then something pushed her out. The cyan shrieked, and looked back at her brown brother whose eyes were whirling through all the colours they could.

Bonding protocol initiated, he said to her, calmly walking to her. Knife, he suggested. Hello, Mengir. Mengsk, and he nodded his head at himself. A right and proper human, he thought to himself. One with fascinating human worries and heartbreaks. How strange, but fitting.

[spoiler]Brown Mengsk, Bonded to Mengir - c9b3a5

Mengsk is perfect. He is precise and calculated in everything that he does; rules are followed to a T, social conventions are properly observed, and he is unwaveringly honest, but also courteous. His speech, though still cut short, is exceptional for a wher and he seems, in every way, to be an improvement on his own genetics. His goal in life, now, is to be a stalwart companion to Mengir, and he reminds her of this verbatim.

Still, there is something not quite right about him. He is robotic. Empathy is not his strong suite and he has a hard time relating to survival instinct and the human condition. His intelligence may be vast, but his tact is sometimes flawed. He understands that he is a wher, and not a human, but also that he does not fit among his wher kin. He is fine with this and lives to accompany his bonded, and he does not pretend to be as empathic and primal.

He finds his sisters fascinating because of their raw instincts, which he lacks. He is easy intrigued by most anything, especially anything passionate or violent - anything he has no capacity for.[/spoiler]

Despite Mengir being saved from her teeth, the cyan arched her back and continued. She would be the victor; she would survive and adapt. Randiel's ankle was bitten; Jafari's shin scratched. She would get all of them, kill them, and be left to live another day -- but she froze. She had went through so many minds and found them alien; disgusting - but she found one that felt like family. Felt like her species. Not in her violence, maybe, but in... something else. She dropped out of her threatening stance and moved slow and sure to stand by Kalet's side.

Kask's, she told him, though it was not in a possessive way. She meant that, to her, he was her kind.

[spoiler]Cyan Kask, Bonded to Kalet - 00292a

Kask is a huntress. This, more than anything, defines who she is an how she goes about her life. She is very primitive in that she acts mostly on instinct and for the basic reason of ensuring her species' survival and triumph at any cost. It is rare that she considers another wher her kin, though, and when she does it is often because they act similarly to her. Kalet is the only one that she will instinctually protect at all times, but that doesn't mean that she is kind.

She has mastered control of her body, but her mind is tumultuous, as though she wasn't meant to have it and doesn't know how it works. Her emotions come and go swiftly and are frequently anger, frustration, or disdain. She is intensely self-centered, and is impatient when it comes to social situations. Hunting, or anything reminiscent of it, is another matter; she can wait in the shadows for days on end if she has to.

As such, Kask prefers to speak through actions rather than words. She is as straightforward and confident as Kalet, which is perhaps why she considers him her kind.[/spoiler]

Slowly, relieved, Ausk rose to her feet, shaking sand out of her gnarled limbs. Her red eyes caught the glowlight, and she ducked her head, menacing. The hatching was over. GO, she commanded fiercely, and all of them heard except for Newtollen, who Audren made sure Ausk's did not speak to.


(Click here for sketches of the babies. I haven't had a chance to ink and color them.)

---

Cathaline
Lady Holder

cathct[M:50]
member is online









Joined: Feb 2011
Gender: Female
Posts: 3,276


Re: Dead Of Night [Ausk's Hatching]
« Reply #43 on Aug 24, 2013, 12:56am »

---

Jafari stifled Newt's sobs, and somewhere in the back of his mind, he was grateful; he knew he was calling unwanted attention to them, and might bring the cyan back for seconds. But just like the last hatching, it was tough for him to keep his mouth shut without intervention...though this was nothing like his excited babble then.

He didn't resist when Audren gently pulled him away. Again, at the back of his mind, the part that had stood for so many wher hatchings, he was glad. At least now he wasn't going to harm Jafari's chances of Impression. He clutched at Audren and begged, "Please don't send me away, please, not until I see him - I have to see him - "

Like a cascade, the three remaining wherets Impressed, one of them - the green who had taken Newsk's eye - to Lirmox, right beside him. Newt noticed, but he was beyond interest, sick to his stomach. His nose had started to bleed, and when he tasted it, he raised the back of his wrist to swipe at it, clinging to his Alphahandler. He was trembling, his leg screaming with pain and the faint remembered pressure of Newsk's agony still flooding his mind.

At last, once the candidates had trekked away, once Ausk had settled her affairs and left, he stumbled into the wreckage of the eggs to find the mangled body. At least the cyan hadn't done anything worse to him, desecrated him further. Newt dropped to his knees, uncaring that the grains of sand pressed up into his wounds, and settled his hand on the black's limp side. Dimly, he could still feel her tearing into his chest and ripping out a piece of his soul. The sensation would leave him, though the grief never would. It may not have been a completed bond, but it still meant something - particularly to one who had spent half his life obsessing over how it would feel.

He hadn't imagined it could feel like this.

He gave one more soft, shuddering sob, and then reached for the sheath at his ankle. "I'm not gonna - you don't have to - I just feel like I should..." He looked at Audren with wet eyes, and then paused. Every one of his scars had a name. Some, from wild whers, he had named himself. They might be nothing but the marks of a hard life to others, but they were meaningful to Newt; he would carry more from this hatching, on his legs, but that wasn't good enough, not for Newsk.

On his right palm was a thin, fading scar where he had accidentally sliced himself open, handing a knife to Yhimere by the blade so he could make the blood bond Newt would never have. He slashed a matching gash onto his left palm, but far deeper, to the bone, to make damn sure it would never disappear. The pain burned, but everything was pain, and he replaced the knife and settled his bleeding hand on Newsk's side.

"I'm sorry," he whispered. "I should have been better. You deserved better. I'll never forget that you chose me."

When he took his hand back, he pressed it briefly against his mouth, trying to still the shaking. His cheeks were wet with tears, and he tugged his glasses straight after a long moment and staggered to his feet. "Okay," he said. "Okay. I'm - yes. Thank you. And can you tell Ausk that - tell her thanks, again."

By the time he finally limped off the sands, it was to be hoped that the wherlings were gone - he couldn't stand to look at them right now, though he searched the dark stands in the hope that Kalenna had not forced Yhimere away. Newt came to a halt in front of Ondine, barely able to stand up; the sand and ichor infesting the wounds on his shins put him at risk of infection, the nosebleed was just tapering off, and there was a bloodstained circle around his left iris. He closed his hand on the self-inflicted cut and put it behind his back. "I want the scar," he told the journeyman quietly. Not that there was much she could do about it now - the cut was analytically precise, too nasty for even sutures to restore him to perfection, but not disabling. Just like his shattered heart.

---

Ondine
Jr. Weyrleader

ondct[M:-155]
member is offline









Joined: Jan 2012
Gender: Male
Posts: 432


Re: Dead Of Night [Ausk's Hatching]
« Reply #44 on Aug 24, 2013, 1:54am »

---

Shino and Shinsk had come to the hatching because that was the proper thing for Wherlings to do, especially when they were the new life that was going to enter the Weyr and join her as fellow Wherlings. Far better to see them now, and whers were still just as endlessly fascinating at they had been before she'd impressed Shinsk. Tonight was, however, destined to be a brutal reminder that they were not warm and friendly, but some of them were brutal and cold blooded killers. Newsk's death was met with a cry of shock and horror, her hands flinging up and over her mouth as she watched the little black die...and then the far, far worse moment when it became obvious that Newt had impressed for even just a moment.

How horrible could it be to have that bond ripped from you before you could even appreciate it. Just the horrible pain that ripped through the poor boy. She didn't want to cry, she was a big girl now and trying to become a wherhandler, but she couldn't help the few tears that slid down her face as she stared at the screaming candidate, and she bowed her head. She didn't want to imagine the pain, but she couldn't stop, and she shook just a little bit as she wept.

Until she heard Shinsk growl, the brown's eyes murderously red, and everything from their bond was savage hatred. How dare the cyan make Shino cry? Sister should never cry, never be upset. Tears were not a miracle, they were an unholy befoulment of all that was a miracle in the world. And that wheret was the villain. He took a few steps, slipping beyond the easy reach of her hand to calm him, and relished the roar that came from Cilisk. Yes, yes, that was right. That was the feeling he wanted, soul-blackening rage. Let everyone else feel it too, let Ausk know that she was a terrible mother for that moment. Another step, and he gave an answering roar to the bronze. Don't worry brother, that black would be avenged.

Shinsk no! Come back to me! Right now, please? Don't leave me. Shino called to him, reigning him in with a psychic touch. Not now, not with both red sub-queens and Kalesk around. He wouldn't survive against any of them, but he'd enrage Ausk by leaving...and right now, there was nothing more that she wanted but the touch of her wher, and maybe her adopted mothers as well. But they were busy, and she refused to be a bad wherling, who distracted from the hatching and endangered others. The brown halted, growling loudly. Shino took that moment of hesitation as she held onto the dangerous mind with her will to get to her feet and scamper after her brown at the same time that his mother gave a swift, warning bark. Sister never cry. Not miracle. Make her pay. Must make pay.

But Shino had learned her lessons well, and put a full palm against his side, No. Be with me. I can't laugh and smile if you're down there. He growled, but her touch was a balm, and he finally sat down under the baleful glare of his mother and his sister's calming presence. There was still a touch of red in his eyes as they whirled back to a yellowish green, but he let Shino kiss his head, and gave a mournful honk before settling down again.

Nearby, a red-haired pridesecond contacted her prideleader and asked for orders at the exact same moment that her sister did, her black wher lurking in the shadows and watching the proceedings with distaste and a strong wish to be elsewhere.

---------

Ondine's smile flickered as she watched the violence erupt on the sands, thus far contained to Audren and the other wherets. But that was only physical violence. The death of a just-impressed wheret couldn't be understated, and they would have their hands full making sure that Newtollen didn't try to kill himself, and he'd need days, weeks, to recover. Her eyes burned, and she whispered orders to the apprentices in the area. Newt would need a place here, and he would need people who cared for him as well. There was plenty of action in the stands, but that was bad. If Ausk got angry, if the wherets took exception, this might all go straight to the flame in no time flat.

Thanking whatever luck she had that none of her women were here at the moment, she walked toward the sands, not going out just yet, but she would need to soon. Hopefully a candidatemaster was on their way out, or else she'd have to risk getting mauled herself in order to get Newtollen off the sands, since he was clearly in no position to leave by himself. She didn't wince as another scream filled with pain came from the boy, but it was a near thing. Soon, she hoped, she needed a chance to get out there soon, but the lack of action from either of the fighters didn't bode well, and the brown was simply biding his time. The whole of the thing felt like it was going to erupt at any time, and that made her wary.

And it all came at once. Impressions and more blood, but nothing too horrible. Audren was getting Newt off the sands, and she made ready to receive them all. Honestly, she had expected it to be worse. But Newt took some time...and she watched him as the apprentices dealt with what were far more minor injuries while she waited for the boy who needed the most help. When he finally arrived, bleeding and at risk for infection, shock, and worse, she looked at him for a long and hard moment. "Of course you do." Her heart went out to the boy, but that didn't mean he had to be stupid about injuring himself. Except that, no doubt, that was exactly what he wanted to do right now. "But I'll be staked for thread before I let it get infected, and you'd have the scar no matter what I did." She gave a faint smile, and then turned to lead him to a table, "So sit here Newtollen, and I'll do everything I can."

----------

If anything, the chaos of a hatching had been understated, Maihri thought. Things changed by the second, and not always for the better. She had to admit though, the little wherets were ugly, but at the same time...kind of cute that way. Obviously they didn't remain cute forever, she just had to look at Ausk for that, but right now...yeah, she could see it. She remained as still as she could (kind of hard really) and kept all of her thoughts clear and positive, knowing that that was a good thing for any wheret who was particularly sensitive.

The next minute put that to the test as the brave little black was abruptly savaged by her sister in front of the boys, and it was only when the male died, and Newtollen screamed, that she realized that the dead wheret had briefly impressed. Or, at least, that was what it seemed like, and she gave her sister's hand a squeeze to comfort her at the same moment she looked over, reading the same thing in her sister's face that she felt in her heart. They'd have to go and make sure that he wasn't without friends after this, it would be terrible if he hurt himself over this. She looked away after another moment, unable to see him screaming like this, and felt her heart get squeezed in bands of iron.

Why wasn't Ausk doing anything? She was just sitting there as though this were normal, as though her children should die like that. She hadn't moved at all, not even to swat the green that had hurt her handler. Clearly they should expect no help from the mother, not even if the children began to claw and tear into the candidates, unless Audren managed to get her to move. Maybe. She set about to watching the two females just in case they came closer, so that she could defend Kaihri from their violence, even if it meant getting in their way and becoming their target. But she was really afraid they would go after Newt, and the boy would be dragged away with more than just emotional injuries...or taken off the sands dead instead. She swallowed, and her eyes closed for a moment. Clear mind or happy thoughts, both of these things were impossible at this moment. She just hoped that...soon...things would be better.

And they did, although not immediately. She couldn't protect either herself or her sister from the cyan who came and bit them both, nor any of the others, but Newt was safe. She squeezed her sister's hand again, and gave her a look. Not this hatching, and maybe not the next, but they had gotten through this one. They could do this.

They would.

---------

Kalet watched with a measure of confidence and detachment. To be honest he expected no less from the ferocious whers, and death and serious injury was hardly surprising during a hatching from them. They were predators, and no matter the precautions, you took a risk when you stood for one. Every single one of the candidates should have acknowledged that it was a risk.

But that didn't mean that he didn't feel for the other boy in the ranks, who had gotten a scrap of that impression and then had it ripped away from him. Newt. The poor boy was going to be traumatized by this, but there had been no blood bond, and with luck the boy could still find another wher who could impress him. That was if he still had the stomach to remain in the program, which wasn't a given.

Things developed rapidly after the black's death. It became apparent that the green had just impressed to Lirmox, which was a good thing, since she had been stumbling into a group that also held the now fragile Newt. It was fortunate that Audren was taking him off the sands or at least protecting him, because Newt wasn't in any shape to be on the sands anymore. The brown went to Mengir, and that left just the volatile cyan who had already claimed her brother. Rather predatory of her, he thought, but all at the same time...well, she was in many ways a creature, and if she wasn't going to hide behind anything. Of course, she could still savage him in the course of finding her person but...

But then her stance changed from aggression to a confident prowl to come to...him. He blinked, eyes widening just slightly, as her voice slithered into his mind, Kask's. For another moment he just stood there, looking at her as she stared right back up at him. If he wasn't wrong, that had hardly been possessive, but the point had still been made. He'd wound up with what was easily the most dangerous wheret of the clutch, and he was by far the one best suited to direct her. He barred his teeth in what was not a smile, bent down, and calmly slashed a finger for the blood to well from. Drink, Kask.

He knew that first impressions were important for any animal, and he was hardly going to give up that kind of training the moment he got a wher. She latched onto his finger, biting it slightly herself, and then extracted herself as the rainbows in her eyes died down. She stretched out a bit and let all of the joints in her body pop, the apex hunter having achieved a kill. But she had not eaten, for the black was not for eating. She would eat, and she showed her own teeth, snapping it shut with finality. Kask hungry. That was all she said, all that she needed to say. It was pointless to say more when Kalet would feed her, so why waste the thought to him?

He gave a small snort, and then picked her up in a single motion. Then let's feed you. Let me guess, you prefer your prey warm and running. There was a brief sensation of confusion, and then she hissed in his arms, looking up at him with yellow eyes, Hunt is proof of victory. We hunt, we win, we survive. True wher know nothing else. Kask's know. When grown, Kask hunt. Accept food. He avoided Newt and fed his little cyan quickly, not that she needed any encouragement. Dallying over a meal was an opportunity to be hunted, and she would not be turned from predator into prey.

RavenSong
Jr. Weyrleader

songct[M:-364]
member is offline









Joined: Jan 2011
Gender: Female
Posts: 709
Location: Under a rock.


Re: Dead Of Night [Ausk's Hatching]
« Reply #45 on Aug 24, 2013, 3:16am »

---

Mengir watched carefully, tense and nervous. Death had rattled her just a little. The tussle in the Stands didn't distract her. Protocol had been drilled into her head already, and her foul brother had drilled another lesson into her head Turns prior: one did not breach protocol. Or Else. And in this case, Or Else could spell death. Mengir wasn't interested in dying. She wanted to live. She wanted to be happy, so she remained still and focused on the wherets. With the Green Impressed to... Lirmox, she thought the name was, her focus went to the remaining pair. The Cyan and the Brown. She wasn't too worried about the Brown, he didn't seem to interested in attacking or anything, but that could be deceptive.

She tensed further as she watched the cyan tear into people, biting the girls who were twins, clawing another girl's heel. She paled when the Cyan set her eyes on her, ready to dodge out of the way. She felt the touch of the Cyan, then something else.

Bonding protocol initiated. Knife. Hello, Mengir. Mengsk.

The voice in her mind stopped her short. She blinked twice, her expression one of shock. Her watery blue eyes were wide, lips parted, and she turned toward the Brown.

"Did... did you say Mengsk?" she asked, staring at his rainbow eyes.

Yes. Mengsk. Bonding protocol initiated. Mengsk blinked at Mengir, who looked overjoyed. Her wher. And he was from Ausk's clutch. He was absolutely perfect. She knelt and hugged him, tears of joy streaming down her face as she pressed her face to his perfect shoulder.

"You're so beautiful," she whispered, her stammer gone.

Bonding protocol initiated, Mengsk repeated a third time, tilting his head swiftly and sharply to one side, wondering why she wasn't completing the protocol. Assistance is required? Knife needed, Mengir. Mengir flushed and drew the knife from her belt, wincing as she cut her non-dominant hand shallowly and offered it to Mengsk, feeling a bit embarrassed over that. Mengsk carefully latched onto her hand, not breaking the skin with his own teeth, but following protocol exactly and forming the blood bond with the blood from Mengir's own cut. He waited until he felt it was sufficiently strong before letting go. Awkwardly, he nudged her hand with his head, trying to echo affection. The action drew a warm smile from the young woman.

"Are you hungry, Mengsk?" she asked softly, leading him to get food while she pressed the cut to her hip. It would clot on its own, she knew. It wasn't deep enough to bleed too long.

Affirmative, Mengsk replied, moving uncannily like a dragon as he followed his wherling. How he knew a word like that was beyond Mengir's knowledge. She herself didn't even know the word, but guessed solely because he got himself some food once they'd found it. Ausk's command was heeded. Mengir picked up Mengsk's chosen bucket and headed off to where she and the Brown were supposed to be.

---

Davalla felt lucky, but at the same time she felt unlucky. She was lucky that she hadn't been mauled. She hadn't been worth the whers' notice. That annoyed her. Still, one of her own had Impressed.

"Congratulations," she said to Lirmox once all the wherets had Impressed. That was that, then. She'd been passed over. With only three wherets, though, that was to be expected. With Ausk's order, she vacated. She'd have time to speak to Lirmox later, assuredly. He was the only one she congratulated, though she'd worked with Mengir in the kitchens and had seen Kalet around. Until she'd fully integrated into either the Riders or the Handlers by bonding, she'd keep her distance, watch, and wait. She'd been waiting this long, what was a few more seasons? Eventually, she'd have what she wanted. She'd have a home, a place she belonged, where she couldn't be removed.

---

Naras smiled to himself as the bonds were finally made. Secretly, he wished he'd never said no to his own Search, but life was what it was and he probably wouldn't have fathered his Greenrider daughter if he hadn't declined Candidacy himself. Still, he wondered how life could've been. Realizing it was time to go, the Master Harper got up and left, humming a low song to himself. Already, he was composing, working on the anthem he'd decided to work on.

---


3993271010a66871770029290000000c809aaa6844f0ffffe9aac4c9b3a51d3932c6e2ff

Reky
Alphahandler

rekyct[M:-999]
member is offline





SO PRO





Joined: Dec 2009
Gender: Female
Posts: 1,553
Location: Calgary, Canada


Re: Dead Of Night [Ausk's Hatching]
« Reply #46 on Aug 24, 2013, 8:06am »

---

Audren held Newt tight as he wept, her arms around his shaking back. His nose bled into the shoulder of her tunic and she hushed him, stroked him comfortingly, and looked worriedly past him. She couldn't imagine the pain of losing Ausk, even with an example trembling against her. "When Ausk leaves," she told him, she'd let him see his Newsk where the black laid with his chest blown open. The crowd disperse swiftly at the red's thunderous call, the spectators to their beds and the new Gray Class Wherlings to their new homes with Lachan. As Inrahim passed, he caught Audren's worried eye, and offered a solemn nod. He knew the agony of losing a wher, and though all of his morality screamed to help Newt right this moment, he would wait until Newt came to him, or Audren made him. He was remembering Inrahisk too intensely now, and needed to sleep it off.

With no one left to push through, Ausk left into the rainy night and Audren released Newt and let him go to Newsk. She stood back, watching from afar, and saw him cut his hand, saw him cry. It tugged at her heart when he rose again, putting his glasses back in place - such a simple action but, considering, it was strong. She pitied him so greatly that she nearly didn't want to be alone, but he needed the space.

"Come to me," she said, "Whenever you need to. Doesn't matter if it's the middle of the day." And then, reluctantly, she left him, and the Sands. In the morning they would take the tiny black body between, but she had a rainy patrol to do and a head and heart to clear.

---

Chimera
Weyrling

chimct[M:-380]
member is offline





:o





Joined: Jan 2013
Gender: Female
Posts: 587


Re: Dead Of Night [Ausk's Hatching]
« Reply #47 on Aug 24, 2013, 11:02am »

---

Newtollen was experiencing what was probably the most agonizing event of his life so far - Lirmox didn't know the older boy's past, but to have a snippet of being bonded, part of a mutual being, and to have it torn away? It seemed to be nearly a repeat of what happened at the double dragon clutch's hatching, nearly a Turn ago - just before the wild wher hatching that was the beginning of the whole Holdless in Dalibor...fiasco? Situation? Time did fly...If Newt had led a holdless life it hadn't been with the gang on the Western Islands.

Jafari was comforting him as best he could, and Lirmox could only watch pitifully, before Audren walked up to the small group of Candidates, gently taking Newt from Jafari's hold. The blond didn't notice the green wheret until she had hissed, an ear-grating sound that jolted him back entirely to reality from the half-awake, blurry state he'd been in. Her clutchmother responded with an commanding snarl, but the green didn't listen. Lirmox had tuned out of the situation, watching the hissing, angry green as

Leave... alone! His eyes widened slightly. Lirmox hadn't done anything! The sickly-hued wheret turned around, making eye contact with the Candidate, before she leapt onto his leg, digging into it and holding on with her claws and teeth. The pain stung, but it was bearable.

When Lirmox looked at the green again, there were rainbows in her angry eyes.

Rainbows. There was a rainbow of colors, shifting and shining in the wheret's eyes, and in his mind was one word.

"Lisk." He breathed in softly, gaping at the wheret. She was primal, angry, volatile, but she was his Lisk. She made a questioning clicking noise for a moment.

I...Lisk. You, Mine! LISK'S MINE. I NOT YOURS, YOU MINE! The newly hatched green, angered by Lirmox's assumption she was his, clambered up the boy, hissing and growling, now latched onto his chest, their meeting eyes almost at equal level. Her lips curled, showing her dangerous teeth once more, and was about to nip her bonded's face. BLOOD! Lisk blood now, WANT! STUPID WEAK, think Lisk yours!

"Hey!" Lirmox frowned. "Get off! You're not making the blood bond on my face, shaffit." He scolded Lisk as he peeled her off of him, setting the wriggling, whining wheret onto the Sands. He'd had some experience with the wher candidate lessons and personal experience during a few times when his feline had gotten angry, but dealing with Lisk was still different. And harder. The green arched her back, stiffening and glaring at Lirmox with a huff. "Let me just get this knife..." Lirmox unsheathed the knife on his belt, his dominant hand shaking a bit as he held it, before making a clean cut into his other hand. He winced from the pain, but it was better than getting bitten. Lisk didn't hesitate to lap up the red blood coming out of the hand, slightly satisfied.

More! The wheret demanded.

"Well, there's no way I'm going to be...yours, Lisk, if you suck out all the blood from me. There's meat over - "

THERE. The green scurried towards the buckets of meat provided, nearly stealing an entire bucket for herself before Lirmox, jogging after her, arrived, holding Lisk in one hand - or attempting to, and feeding her the chunks of meat in the other, the hand he didn't cut. The ravenous wheret tore the meat viciously apart before swallowing it. As Lirmox tried to satisfy Lisk's hunger, he looked at the other two wherlings. At least there were no more deaths - injuries were expected, but Newsk's death had been traumatic for all involved, as far as Lirmox was concerned. The huntress, the cyan, had bonded to Kalet, and the too-perfect brown had chosen Mengir. He nodded in congratulations with a slight smile to the other two, Lisk latched onto his chest with an arm keeping her secure, glaring at the rest of the world and letting out an occasional snarl at her siblings, Ausk, or anyone else she saw and didn't like - which was pretty much everyone.

He walked up to Jafari, and though Lirmox would normally have had a smug face and a condescending attitude in this situation, there was none or very little.

"Better luck next time." Lisk, however, picking up on the dislike Lirmox still had for Jafari, leapt onto the other boy and nearly mauled him were it not for her new handler snatching her off. "LISK! You don't jump and attack people just like that."

Like what. What that?

He sighed. "You're a hard case. Sorry about that, Jafari."

The hatching was officially over, with a single word from Ausk. He was a wherling now, and as he headed towards their new home in the wherling barracks, he paused and looked at Audren and Newt, offering a sympathetic stare. It was all he could offer, before continuing his path to the next part of his strange life at the weyr. Along the way he thanked Davalla on the congratulations.

Weak. They weak, dead brother weak. Mine weak, stronger with strong wher. Lisk mused.

"Well, of course I'll become stronger. So will the others, Lisk." The green had nothing to reply to this, and trotted alongside Lirmox, hissing a bit more calmly and less frequently. "You shouldn't have attacked the canine, though."

WEAK THING. USELESS. If more weak things, they SNACKS. Mine have weak thing too, if have, kill. More food.

"Uh - "

LIE! MINE HAVE.

"Yeah, but if you try to eat them they're not tasty."

How you know?
***

The pain of losing a loved one was strong, and Lanorun could only speculate as to how exactly Newtollen felt. The hatching seemed to wrap up quickly, the Impressions happening and Audren taking care of Newt. He didn't care he didn't Impress this time, not really caring if he ever Impressed to a wher. Lanorun briskly walked off with the other Candidates when Ausk ended the hatching. What he *was* angry about was Nori attending such a tiny, dangerous hatching, and as she left back to the Barracks Lanorun walked up to her.

"Was there a reason for you to attend? You could have very well been killed!"

And so his grouching of the day...or early morning...began.

***

Dardranel watched the rest of the hatching with eyes as wide as saucers, and practically flew away when the hatching ended.

She was not going to one of these wher hatchings again.

---

Dragonwher
Weyrling

dract[M:215]
member is offline





A wild Tomboy appears!





Joined: Feb 2013
Gender: Female
Posts: 213


Re: Dead Of Night [Ausk's Hatching]
« Reply #48 on Aug 24, 2013, 12:11pm »

---

Randiel watched the flurry of activity, and barely managed to whisper congratulations to the few chosen before Ausk rang in his mind. That caused him to cease being a statue and turn to follow those who were not chosen; though not without having looked back at where Newt had been left. For now he said nothing however, figuring his words would be unwelcome right now. So he calmly as possible left the sands to head back to his room in the candidate section. Once he'd turned away from Ausk he tried to send the quiet command to return to his room to his pets.

Since he was moving so slowly he knew the pets would get to his door before he did. What he didn't expect was Asher perched on a little knob of stone next to his door with a note in his paws. Randiel knew he was the elder sibling but for some reason the sight of that little scrap of a note scared him almost worse than the Cyan wheret and her antics on the sands had. Yet he still reached for it as Asher let it go with a look of...apology?. Then as the black flew back to his new home in the weyrling barracks Randiel entered his own room. Once his pets were inside he shut the door and opened the note.

Which read like he'd roughly expected; though being told 'he was a sharding overbearing mother wherry with his brains in his backside' for his pets sticking her to the bed was sharding uncalled for. Then he felt bad for going that overkill when it came to his sister stating she had meant her intent to sneak into the Wher hatching as a sharding JOKE. He would have thought to send an apology back but Aela sent him the image of Mira curled in a ball asleep after they let her go to get to Randiel's room after she'd written her angry note. So Randi shrugged "eh, guess I'll try to apologize another time then if she's already passed out...lets get to sleep then". With that a bonetired Randiel flopped into his bed as Majere made it to his bucket and both the flits fluttered to sleep on Randiel; being too sleepy to get to the higher perch.

---

| | |
| --- | --- |
| « Page 2 of 2 Jump to page Go | |
chatbox




don't flood or spam





be respectful





follow site rules





don't impersonate





no advertising





The chatbox is a welcoming and inviting place where all our members should feel comfortable. Please do not speak about topics that are potentially triggering, highly personal, illegal, or otherwise inappropriate. This includes anything pertaining to medical situations or advice. Chatbox bans will be issued on a case-by-case basis.



affiliates